The Right Guy
Meet Cute Book Club Book 4
By
Mel Walker
My ex is bringing my replacement to our friend's wedding, what do I do?
Option A: Leave the state
Option B: Find a fake boyfriend for the week
Catherine is an unparalleled success. Blessed with friends from coast to coast and a smashing successful manager of a premier event space in the state, she has overachieved in every aspect of her life except one – finding a partner. Returning to her hometown for a friend's wedding she is confronted by her ex, the man who predicted she'll always be alone. To make matters worse, he trots his replacement all around town. Her knee jerk reaction, find a fake boyfriend for the week. Being an overachiever has its own set of challenges, even her fake relationship appears real to everyone, including herself.
Hunter is far from home. New city, new job, new challenges. He's looking to stand on his own without the assistance of his powerful family. It's a brilliant plan, that is until a stranger kisses him and ropes him into a fake romance. She is a beautiful distraction and he has his reasons for agreeing but as the charade grows he realizes the danger. The fake relationship isn't the only secret he is hiding behind and if his secret gets out everything he's worked for may disappear.
If you love small towns, fake relationship stories, moments that will tug at your heartstrings and a swoon-worthy happy ending, then you'll love this sweet romance.
Catherine is going home for the first time in a while, this time unlike the others there will be no avoiding her ex. Her best friend Ava is getting married, and Palmer is a friend of Carlos, the groom.
Unfortunately, Palmer has interfered and now the wedding is at what was once a premier catering venue, Legendary Hall. Catherine once worked there, but she moved out state to her current position in Indiana needing to grow and develop her skills away from her hometown and Palmer. Legendary Hall has gone downhill since the owner retired and his son Frankie took over.
Hunter recently moved to Mesa. He's working at Legendary Hall but not for the money. He has an ulterior motive that begins with learning all that's gone wrong with the venue.
Catherine crosses paths with Hunter as she does a favor for Ava. Checking that all is on schedule and planned properly at Legendary Hall. Her encounter with Frankie is topped only by the appearance of Palmer. Of course, he's got plenty to say to her and none of it is nice.
This is a favorite scene.
Thirty minutes and forty items later, Frankie escorts me back to the lobby of Legendary Hall. "You do know we've given them a discount," he mentions for the tenth time since I began to review the contract, line item by line item. Frankie was as useless as I feared. He didn't have a clue on the status of most of the items and the ones he did answer were filled with half-truths and outright lies.
"It doesn't matter if you're giving it to them for free. You are running a business and have a reputation to uphold. When was the last time your dad came through here?" I twist the one point that I know will gnaw at him.
"He's retired. I run this place."
"It shows," I spit back.
"Why do you care?" Frankie fires back but before I can respond, another voice calls out across the lobby.
"Because it's the closest she's ever going to get to a wedding. She's always living life vicariously through others." I don't have to turn to know who it is or the look I will find on his smug face.
Palmer Easton has arrived.
"About time you showed up Palmer, I texted you twenty minutes ago. Your girl is making my life a living hell." Frankie's voice holds no shame. Not even the courtesy of sounding apologetic to me. I'm just an object that needs to be handled and since he can't control me, he's called in reinforcements.
I brace and turn. Palmer Easton in the flesh and blood. Palmer is white, golden short curls and blue eyes that at one point in time I wanted to stare into all day. These days I look right through them, unaffected.
"Yeah. That's kind of her specialty. Hello Catherine." His tone is different from the years we spent together. It is now filled with bile, and venom.
The boys smack hands and swap sinister grins. The bullies celebrating. Palmer should know better. He knows my history with both Frankie and Legendary Hall.
I hold up the punch list of items I've scribbled down and snap a picture. I step to Frankie and push the paper into his hand. "Here are the items we've discussed. Ava has enough on her plate, so I suggest you get to work on it immediately. I'll be back Saturday morning for a walkthrough, and I pray that everything will be up to standard."
"Catherine have you not learned a thing? Do you really want Frankie to tell you what to do with that list?" Palmer winks at Frankie and nods in the direction of the office. "Frankie, I got this. Thanks for the heads up."
Frankie gives Palmer another hand smack, and he disappears down the hall without saying farewell or any pretense that he'll address my concerns. Customer service at its best.
I make the mistake of taking my eyes off Palmer to watch Frankie walk away. I feel him before I see him, Palmer's scrawny finger lifting the dark hair which rests on my shoulder. He sweeps it off my shoulder, his face pushing forward, lips an inch from my ear. "You lost the privilege of giving orders when you decided to ride off into the sunset and leave us behind. How is that working out for you?"
My shoulders clench and I spin away from Palmer. His baby blues, which for years held warmth and love, now filled with disgust. "Don't you dare touch me."
He scoffs at me and closes the distance between us again. "Someone has to. I know for a fact that you didn't put a name on your plus one. You're still as single as the day is long. Just as I predicted when you left here. You'll always be alone. And lonely. Not even good enough to be a bridesmaid. You'll never be a bride." He spits the venomous words at me using our history to torture me. "You had your shot at the brass ring, and you messed up. And now you'll forever be searching for the perfect man, the right guy, that only exists only in your head. I'm as close as you'll ever get, and it wasn't good enough because nothing is good enough for the woman who pushes everyone away."
His words cut. We spent years together. He knows me. He knows what brings me joy as well as my biggest fears. He has decided, for some reason, to use this information to bring me pain. This is not the man I once knew.
My silence emboldens him. He closes in like a snake in the grass, looking to strike again. I've been in Destiny Falls, Indiana, for three years. I've met some amazing people; I've seen love blossom all around me. Both of my good friends Mia and Candice found the loves of their lives. Yet I'm still single without a decent prospect on the horizon. It shouldn't matter, but I won't let Palmer feeling superior to me even for an instance take root.
"Don't touch me again Palmer." I put steel in my voice, forcing him to halt his approach. "And you may want to check your facts. You're wrong again." I catch the movement over Palmer's shoulder. Hunter, the kind observant maintenance man. He must've clocked out while I was on tour with Frankie. He's paused in the hallway now clad in a nice pair of dress slacks and a polo shirt, an outfit I would have never pegged for him. I may have misread Palmer all those years ago, but my assessment abilities have improved over the years.
I pray I'm right.
"So, are you bringing someone to the wedding?" Palmer scoffs once again at me, the challenge in his voice egging me on. "I mean someone not your sister." He enjoys his own response with a chuckle.
I should be a better person. I don't need to prove anything to anyone, let alone Palmer Easton. But I can't let the thought of him thinking he's right about something concerning me take a foothold in his mind. If it does, I know him. He'll spin this into me being wrong about everything – including dumping him. I won't let that happen.
My gaze locks on Hunter and I raise a brow, hoping he's heard enough of this conversation. Hoping my instinct that he is a kind and understanding soul is not broken, I lift a hand in his direction as Palmer turns to see what has drawn my attention.
My breath catches for a foolish beat as I push out the words. "There he is now. My man." I exhale and take a leap of faith.
Mel Walker. The Right Guy (Kindle Locations 373-419).
Without conversation, Hunter plays along with Catherine. He agrees to be her date for Ava's wedding. However, there's some legwork to be done to appear as a couple.
Neither of them expects to actually start to fall in love. There are many things they aren't talking about, and those things could destroy the budding relationship.
I love the way this story plays out, there are ups and downs and plenty of surprises.
5 Contented Purrs for Mel!
Click the Cover for Buy Links and More!
Coming Soon!
Mel Walker
Mel Walker has been writing fiction most of his adult life. Specializing in Short Stories and Contemporary fiction and Romance Novels. A native New Yorker and life-long frustrated NY Mets fan. He loves to write about ordinary people placed in difficult situations, especially as it relates to their closest relationships.
Website | Instagram | Facebook | Goodreads
Amazon Author Page
About The Meet Cute Book Club Series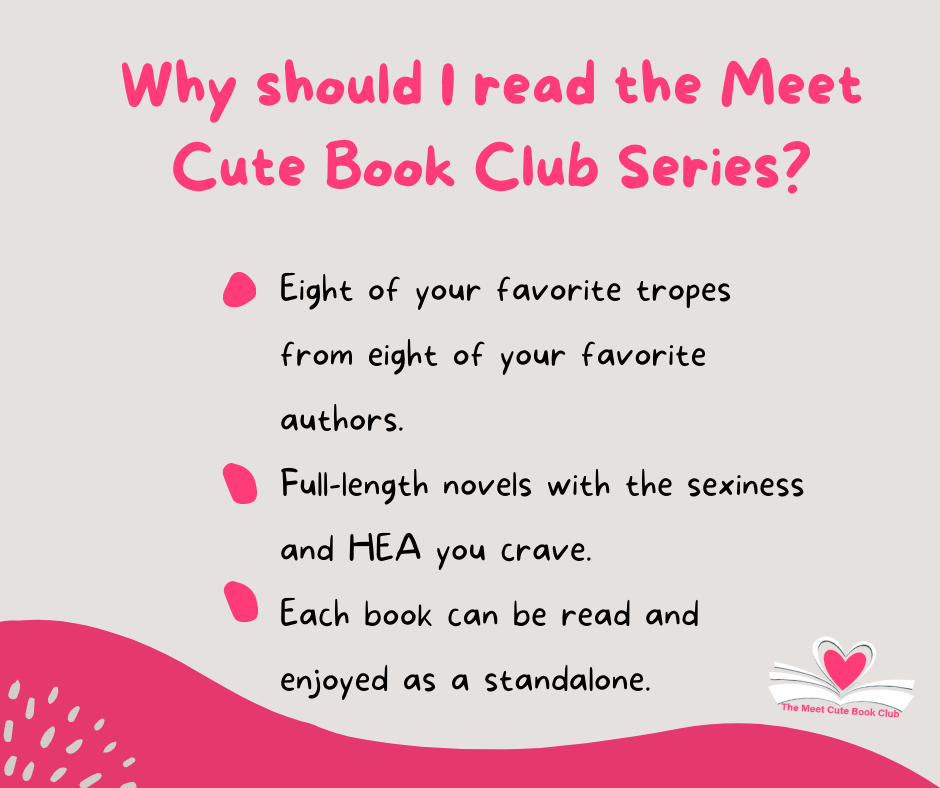 Escape with the Meet Cute Book Club where meet-cutes don't only happen between the pages of romance novels and members find their own happily ever afters.
Eight single women bound by their love of books take a monthly break from real life to lose themselves in the chapters of romantic fiction. From friends to lovers to fake relationships and more, each story features a brand new couple and their journey to find love from an amazing lineup of authors including Louise Lennox, Tracy Broemmer, A.M. Williams, Mel Walker, RJ Gray, Rebecca Wilder, Julie Archer, and Kate Stacy.
These eight standalone romances are packed with meet-cutes, heat, and of course a happily ever after!
This promotional event is brought to you by The Indie Pen PR