The Hidden Love
Meet Cute Book Club Book 5
By
USA Today Bestselling Author
RJ Gray
"Oh, God! Did I just fall right into my dead best friend's ex-boyfriend, secret baby daddy, incredibly sexy, Navy SEAL's arms?" – Sounds like a line right out of one of my book club's romance novels.
Except it's not. It's real life. My real life.
Grieving the loss of my best friend, and suddenly taking on raising her son, I'm faced with a whole new set of challenges. That includes breaking the news to my brother's best friend, Kade, that Danny is his son.
As if that's not enough for one woman to handle, Kade is even hotter than I remember and navigating all the details of Annabelle's death and Danny's future brings us closer than ever, in more ways than one.
And my girls in from book club? They're all for me finding my happily ever after with the sexy as sin man in uniform.
But Kade has even more on the line without worrying about a relationship. Will he choose a family and life outside of the military, or will he go back to his unit and leave it all behind?
Shannon Callaway's best friend Annabelle and her husband have died. Shannon is the guardian of their son Danny at least for now. The lawyer dropped a bomb on her and now she's not sure what the outcome will be. In an effort to reduce the shock she emails Annebelle's once boyfriend the news.
Master Chief Kade Harding is facing medical discharge. He's not sure what direction his life will take from here. When he opens his email and reads the one from his best friend Blaze's sister, Shannon the past comes back in a wave of memories. Annabelle was dead, his first love. Since he'd put in for his retirement and had plenty of leave time, he decides to leave right away to go home to Abbott Ridge. More than a little curious as to what Annabelle could possibly have left him.
Shannon and Kade meet up for the first time in years in the lawyer's waiting room. There Shannon is surprised at her reaction to him. Kade wants to know why he had to be here, but Shannon is not at liberty to tell.
This is a favorite scene.
Speaking of the devil, as if she'd conjured him up, Kade walked up the steps. The glass door swung open, but Kade controlled it against the gust of wind, unlike when she'd entered, and the door blew out of her hand, slamming against the inside wall with a loud clang, announcing her arrival to the entire office. She looked up at the tall man standing in the doorway with an intimidating scowl on his face.
He was bigger than she remembered. He'd worn his hair the same way since high school. Blond, short, clean cut, but now he wore the front spiked up. It surprised her to see a closely trimmed beard. Didn't military regulations forbid facial hair?
His body had changed, too. He'd been lean in his teens, now, the man was a bear. Wide chest, muscles spread across his shoulders, and when had he grown such enormous arms? Muscles like that took work, and a lot of it.
Butterflies fluttered in her stomach as she appraised him.
What the actual hell?
She shrugged them off, dismissing them as a hunger pain. Rising from her seat, she walked towards him. Instead of reaching her hand out for him to shake as she'd planned, she tripped. She propelled forward, her arms flailing as she fell, face first, towards the ground.
Strong arms went around her waist, lifting her straight off the ground. Sliding her down over his hard body, her feet settled back on the ground where they belonged.
Oh, God! Did I just fall right into my dead best friend's ex-boyfriend, secret baby daddy, incredibly sexy Navy SEAL's arms?
Stepping back, she smiled shyly, blushing profusely, and reached her hand out for him to shake.
Shaking his head instead of her hand, he engulfed her in a long, warm embrace.
"I am sorry, Shannon. I know Annabelle was more of a sister than a friend to you."
Hearing Annabelle's name spoken in the past tense felt like a dagger in the soul.
She'd been the one to identify the bodies.
She saw them. Held Annabelle's cold, stiff hand in hers.
Yet, her death wasn't cemented into her being. In her soul. It wasn't real.
She'd expected her to walk in The Inn's door with a bottle of wine and a smile on her face after work on Thursday like they'd planned. She looked for her daily morning text, the one entitled, Not Safe For Work, before something hilariously inappropriate below and the information about Danny's next baseball game. Shannon had been at every one of his events since his birth, sitting next to Annabelle, cheering him on. Annabelle made shirts for each season with Danny's number on the back and 'proud mom', 'proud aunt', and 'proud dad' on the front. He always had a cheering section. It would fall on her now to continue that tradition.
"Shannon, are you okay?" Kade asked, pulling her from her thoughts. Awkwardly, she stepped out of his embrace.
"Sorry, I got lost in memories for a second there." "I understand. Happened to me on the drive yesterday," Kade said.
"Hearing her name in the past tense…"
"I get it." The far off look in his eyes told her he probably understood more than she knew. How many friends had he lost in combat? He wasn't a stranger to death. He'd been close to his grandparents, and he'd lost both of them. Yes, Kade knew a thing or two about loss.
Guiding her back to the empty seats, he waited for her to sit back down. After checking in with the receptionist, he sat next to her. "I wish I knew what this was about. I don't enjoy going to meetings unprepared. Never been one for surprises," Kade said.
If only he knew.
This wasn't a surprise.
It was a deep betrayal.
A knife in the back. A life-altering event. Shannon still hadn't quite wrapped her mind around it. Incapable of trusting herself to speak, she simply nodded in understanding. She'd been in his position just a few days before when Jones dropped the information into her lap. Gripping her hands tightly together, she wished the lawyer would‌ hurry.
Kade's penetrating gaze bore into her. "Shannon, what aren't you telling me?"
"W-what do you mean?" Darn if the man wasn't intuitive. Must be his military training. Although she was a terrible liar. Her grandmother told her never to play poker, she'd lose The Inn in the first hand.
"Answering a question with a question will not distract me. You know what the lawyer wants to give us, don't you?"
"I do," she said honestly. "But Kade, I can't tell you. He has to–."
"Why? What's the big deal?" he interrupted her.
"Can you please… just wait ten minutes until our meeting?" She reached out and touched his arm. It was just as hard underneath his shirt as it looked.
"Kade, Shannon, are you ready?" As if he had the waiting room bugged, Jones popped out of his office and motioned them in. Sighing with relief, Shannon stood and followed him back into his office. She'd been in it one too many times recently.
He nodded towards the chairs in front of his desk. Shannon sat in one of them, but Kade stood, leaning against the wall, his arms crossed over his chest.
"Kade, I think you should sit," Jones said.
"I'll stand."
"You should sit," Shannon repeated. Sighing loudly, Kade walked over to the chair next to her and plopped down in it.
"I'm sitting," he said. "What's this all about, Jones?"
"Kade, I've known you for your entire life," Jones started. "Your grandfather and I were close friends. I want you to know that it killed me to keep this from you. I'm sworn under attorney-client privilege," he started.
"Jones…" There was a warning in Kade's tone.
"This isn't the type of information you give over the phone," the older man continued.
"I think you'd better stop delaying and just tell him," Shannon said, looking down at Kade's clenched fist and the tic that appeared in his jaw.
"What's wrong? This isn't a meeting about inheriting an item from Annabelle, is it?" Kade asked suspiciously.
Shannon exchanged a knowing glance with Jones. He was inheriting something, but it wasn't an object.
"One of you had better tell me what this is about," Kade warned.
"Look, son. Hear me out before you respond, okay?" Jones asked. Kade nodded curtly.
Shannon turned sideways in her seat and faced Kade, wanting to see his face when he received the news. Danny was important to her, Kade's place in his life needed to be healthy.
"You have a son," Jones dropped the emotional bomb into his lap.
Kade's face remained stoic, but his eyes… emotions crossed them like someone clicking through slides on a Viewmaster toy.
Disbelief.
Anger.
And… tears.
Kade had tears in his eyes.
Shannon didn't think her heart could break any more than it had that week but seeing tears well up in the SEAL's eyes shattered it.
"Danny is a great kid, Kade. He's intelligent, caring, and a natural athlete. He reminds me of you as a boy," Jones finished.
There was a heaviness in the air as Kade processed the information. Shannon wished he'd say something, anything, to break the tension.
She felt for him.
He was as much a victim in all of this as Danny was.
RJ Gray. The Hidden Love (Kindle Locations 335-397).
Now Shannon is scared, desperately hoping Kade won't take Danny far from her. Kade has a lot to think about here. He's a father, he had no idea, and this has shaken him more than he cares to admit.
There's a definite attraction between Shannon and Kade, but with Danny in the middle there is also many misunderstandings. Kade isn't very open and Shannon is at times not very understanding of his predicament.
This is a sad but heartwarming tale, with laughter, tears and romance. As Kade and Shannon become more than just friends and Danny finds he has another father.
5 Contented Purrs for RJ!
Click the Cover for Buy Links and More!
Coming Soon!
RJ Gray
RJ Gray is a USA TODAY, Amazon & International Bestselling author of Explosively Hot Romance. Writing military romance comes second nature to RJ. After serving in the military herself, she married her very own hero, an active duty Army EOD technician. In the last seventeen years, they've lived in Illinois, DC, Missouri, Alabama, Florida, Washington State, Colorado, Virginia and Hawaii. Recently, RJ moved to the great state of South Carolina with her husband, two young sons, their rescue pup, and two adopted kittens. RJ lives an active life. When not writing, her hobbies include whipping up delicious meals, capturing life's beauty with her camera and attending her children's multiple sporting events.
Website | Instagram | Facebook | Goodreads
Amazon Author Page
About The Meet Cute Book Club Series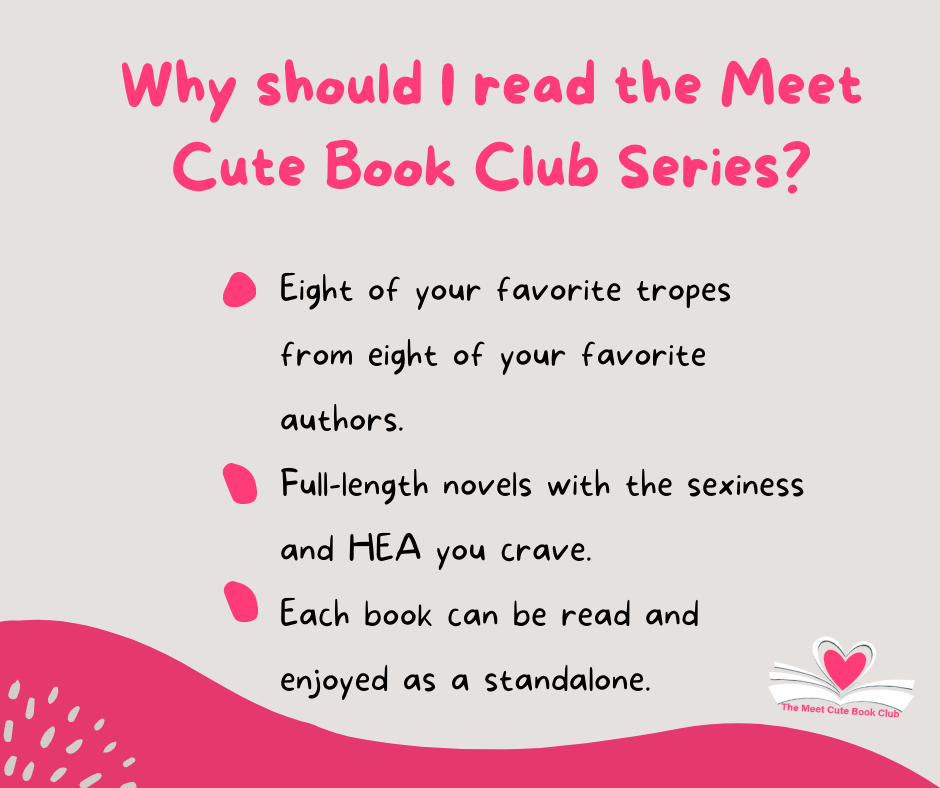 Escape with the Meet Cute Book Club where meet-cutes don't only happen between the pages of romance novels and members find their own happily ever afters.
Eight single women bound by their love of books take a monthly break from real life to lose themselves in the chapters of romantic fiction. From friends to lovers to fake relationships and more, each story features a brand new couple and their journey to find love from an amazing lineup of authors including Louise Lennox, Tracy Broemmer, A.M. Williams, Mel Walker, RJ Gray, Rebecca Wilder, Julie Archer, and Kate Stacy.
These eight standalone romances are packed with meet-cutes, heat, and of course a happily ever after!
This promotional event is brought to you by The Indie Pen PR