The Hometown Dilemma
Meet Cute Book Club Book 7
By
Julie Archer
Jaime
Who says you can't go home?
Coming back to Abbott Ridge and starting over was my plan. But, just like everything in life, plans change. Especially when the interior design reality tv show I dreamed of taking part in gets canceled before filming even begins. Now I'm stuck without a job and forced to rethink how I'll start my own company.
Insert Wade Dempsey.
Owner of Dempsey's bar, and one of my closest friends from college. He immediately offers me a temporary job working with him, like old times.
It's an offer I can't refuse. Oh, and did I mention that my new boss is even sexier than I remember?
Things between us are going great…until a call from New York presents me with a new offer that has me second guessing my stay in Abbott Ridge.
Wade
Home is where the heart is.
I've spent my whole life in Abbott Ridge, running in and out of my family's bar until I was finally old enough to take over. Now I'm in charge, but it's a struggle to keep the place from going under. I need fresh ideas to compete with all the fancy bars and clubs popping up downtown.
Insert, Jaime Harlow.
Having Jaime back behind my bar seems like a good place to start. She's an inspiration and a breath of fresh air, in more ways than one.
Old times, new feelings – and one stormy night – are all we need to ignite the desires I never realized existed.
When New York calls for Jaime and the only future I've known goes up in flames, we find ourselves faced with a huge dilemma that threatens our new found relationship. Can we really make this work when right now it feels like we can't even see eye to eye? There's only one way to find out.
Jamie came home to Abbott Ridge with some goals in mind. First is to get onto the reality show Interior Nirvana, the second is to start her own Interior Design firm. Settling in she goes out with her sister Cami to Dempsey's. The owner Wade is Cami's ex, but Jamie had worked at the bar while she was in school.
This is a favorite scene.
The general chatter seemed to lessen as I got closer. The party probably thought I was going to bawl them out for being too noisy. Ignoring the main group who stood by the jukebox, I went to the table where Cami, the footballer, and her sister sat.
"Cami," I said. "Having a good night?"
She turned towards me, her eyes a little glassy from whatever cocktail she'd been drinking. "Sure am, Wade. Thanks for checking in." As if to prove it, she placed her hand on the football player's thigh and gave it a squeeze. He growled at her and pulled her towards him, whispering something in her ear which caused her to let out a high-pitched giggle.
Jaime winced and mumbled something under her breath, which I didn't quite catch.
"Hey," I asked. "How are you? Back for a visit?"
"Nope. Back for good." She shook her head, her mahogany hair tumbling in waves around her shoulders.
"Really?" I raised an eyebrow. "What can Abbott Ridge offer that New York can't?"
She let out a sigh. "Hopefully my own business. I decided it was time to branch out on my own."
"Sounds good. Are you still doing interior design?"
Austen arrived with our drinks before she had a chance to answer. He placed a vodka, lime, and soda in front of Jaime and yet another cocktail next to Cami – not that she needed any more to drink.
"Why don't you join us?" offered Jaime, gesturing to the empty seats around the table.
"Thanks."
I took the seat next to Jaime and Austen sat on the other side of her. If I angled myself correctly, I wasn't able to see the spectacle of Cami trying to shove her tongue down the football player's throat. Despite what Austen might have thought, there was absolutely no jealousy involved at all. I just didn't want to see such a public display of affection.
"You were saying what it was you'd come back here to do?" I prompted.
Jaime took a large swig of her latest drink. "Interior design. I, um, want to apply to be on the next season of Interior Nirvana."
"Sorry, I have no idea what that is." I raised my shoulders in a shrug and turned to Austen for clarification.
He nodded approvingly. "That sounds pretty good. I've never seen the show but know a bit about it from my colleagues." His fingers drummed on the table. "Actually, you might be able to help me out with something."
"Austen needs someone to help him sell a house," I started. "You know, to make it look good when people go to look at it."
"Oh, you mean staging?" Jaime shifted her attention away from me and towards my best friend.
"That's right," Austen agreed. "I have the fussiest client and she's demanding AF. But I don't know where to start.
When I did an internet search for designers in the area, I came up with hundreds. How do I narrow it down?"
A shadow flickered across Jaime's face, and I noticed she composed herself before answering. I cut in. "Wait, instead of asking Jaime to narrow it down for you, why don't you ask her if she could do it?" I looked between the two of them, watching as the light bulb came on over my best friend's head.
"Have you done staging before?" asked Austen.
"Not a huge amount, but I know what it involves. One of my colleagues did it more than me. I can always ask her for some tips if I need to." Jaime smiled, her green eyes sparkling with excitement.
Her smile, much softer and more genuine than her sisters', almost took my breath away. She seemed so grateful to me for the suggestion. I sat back in my chair, watching as the two of them started talking about houses and interiors, both subjects which didn't interest me in the least. When Austen excused himself to go to the bathroom, I realized Cami and her football player had also disappeared. Jamie and I were alone.
"Thank you," she said. "I appreciate you thinking of me. I was beginning to wonder if I'd ever get another job." Her hand slid across the table and covered my knuckles. Soft, moisturized skin brushed over mine.
My heart almost skipped a beat. What was I thinking? This was my ex's sister. I shouldn't be having any sort of reaction to her. Trying to ignore my physical response, I brushed it off.
"No problem. And hey, if you need a job, you could always come back here to work." I meant it as a joke. Suddenly, a chord struck in my memory of us working here together when we were in college, bantering, flirting, but never taking it further. Some of those nights hadn't felt like work, more like hanging out with a good friend.
"Thank you, I might take you up on that." Jaime smiled again.
Seriously, she could light up a room. But why was I suddenly thinking of my ex's sister like that?
Julie Archer. The Hometown Dilemma (Kindle Locations 462-466).
When Wade joins them with his best friend Austin, he prompts Jamie on her plans now that she's moved home.
She's surprised and pleased when Austin mentions needing someone to stage a residence for sale. This becomes her first job and she's hoping it will lead to recommendations.
The network cancels Interior Nirvana and now Jamie is waiting to hear from Austin about the results of the staging. With funds running low she takes Wade up on his offer of a job to make ends meet.
Things start heating up for Wade and Jamie in more ways than one when she gets a call from her former boss in New York.
This is a fun read with a touch of drama and some sizzling heat.
5 Contented Purrs for Julie!
Click the Cover for Buy Links and More!
Coming Soon!
  Julie Archer
Author of contemporary romance featuring rock stars, small towns, a healthy dose of angst, some steamy times and always a happy ever after!
​When not writing, I can usually be found binge watching teen drama series on Netflix, or supporting Spurs from my armchair, and running around after my two feline children, Corey and Elsa.
Website | Instagram | Facebook | Goodreads
Amazon Author Page
About The Meet Cute Book Club Series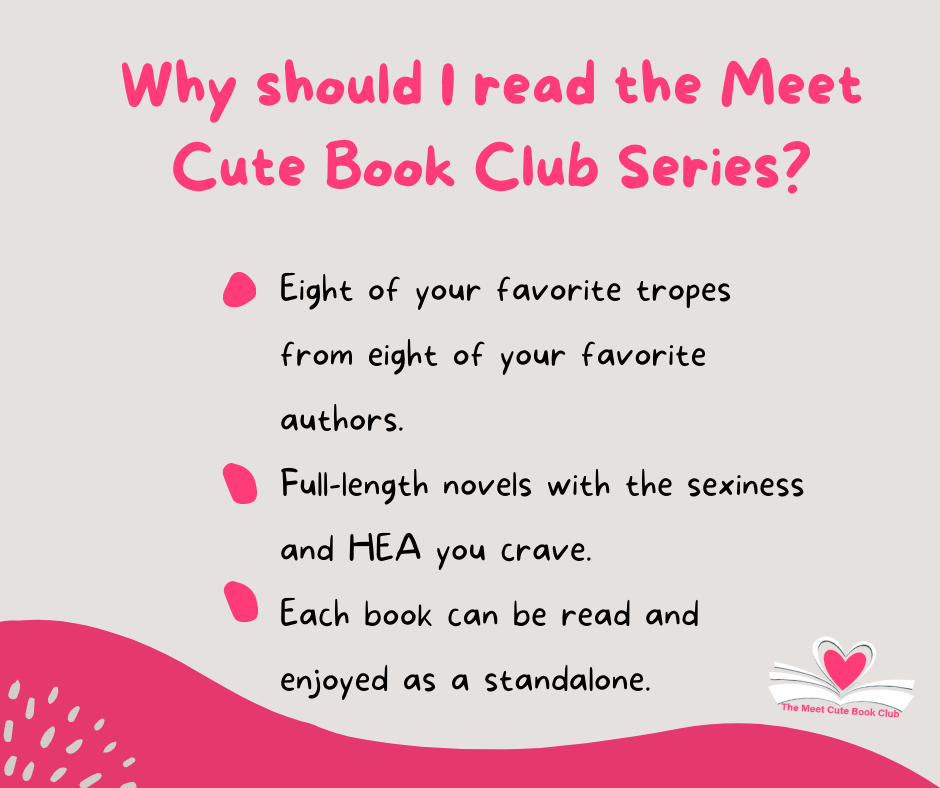 Escape with the Meet Cute Book Club where meet-cutes don't only happen between the pages of romance novels and members find their own happily ever afters.
Eight single women bound by their love of books take a monthly break from real life to lose themselves in the chapters of romantic fiction. From friends to lovers to fake relationships and more, each story features a brand new couple and their journey to find love from an amazing lineup of authors including Louise Lennox, Tracy Broemmer, A.M. Williams, Mel Walker, RJ Gray, Rebecca Wilder, Julie Archer, and Kate Stacy.
These eight standalone romances are packed with meet-cutes, heat, and of course a happily ever after!
This promotional event is brought to you by The Indie Pen PR