The Mix-Up
Meet Cute Book Club Book 6
By
USA Today Bestselling Author
Rebecca Wilder
Arlowe
"I think that there's been some kind of mix up."
That's my first clue that my stay in Lilac Harbor isn't going to go according to plan. There's been a mistake with my rental booking and now instead of having the charming little bungalow on the shore all to myself, I've got a not so charming roommate.
Yates Warner. He's a grump in every sense of the word, but there's something about the guarded translator that tugs at my heartstrings. I'm determined to make the best of this situation, and who knows? Maybe my grumpy giant and I can even be friends.
Yates
Yeah, we're definitely never going to be friends. Arlowe Mitchell is too sweet for a grouchy loner like me. She's too friendly, too generous, and way too optimistic. Also, way too tempting.
The more time I spend with her, the more I want her. When she tells me about the newest book her book club is reading and says how she always wanted to have a summer fling like the characters, I finally get my opening.
A four-week fling. No strings attached and we part at the end of the month to go our separate ways. The only rule we have is to not get attached. I thought it would be a piece of cake to follow but the more time I spend around my new roomie, the more I realize that I'm in real trouble of breaking our one and only rule.
When Arlowe Mitchell arrives in Lilac Harbor, the last thing she expects is a problem with her rental. She's opening a new location of Clay Fire and with the renovations still going on she needs to be on site for about six weeks.
Yates Warner is the new owner of the rental property. He was supposed to cancel the rental but in the chaos of moving in he forgot. Now he has to figure out what to do about it. Apparently, the hotel has no vacancies so that's out.
The house has plenty of bedrooms and baths, so he offers Arlowe a room until the hotel has vacancies. He doesn't expect to have much interaction with her, she'll be busy outside the house only coming home to sleep, or so he hopes.
Arlowe really doesn't want to stay at the hotel, and she immediately agrees to Yates' offer of a room. Insisting she won't be a bother.
In spite of what he's said, Yates finds himself intrigued by Arlowe. She's managed to get him out to dinner and now their at the Maple Fair in neighboring Maple Bend.
This is a favorite scene.
"Are you going to win me a stuffed animal?" I tease when I see him eyeing one of the games that we're walking past.
"I doubt it. I'm terrible at all of those games," he says and I laugh.
"I'm pretty sure everyone is."
We head into the vendor section and Yates waits patiently as I look around each booth. We get to one that's selling cake pops and I grab two, passing one to Yates. He huffs out a laugh when he sees the mermaid one that I bought him.
"Did you want the unicorn one instead?" I ask, offering him the one in my hand, and he shakes his head.
"No, this one is fine."
He takes a bite, finishing the whole thing in about two bites as we continue to browse through all of the craft stands. I debate buying a beaded wallet and a little water painting but put both of them back. I don't want to carry either of them around for the rest of our afternoon.
I stop by one of the maple booths and grab Hartley's maple candy. I get another bag for me and then one for Yates and his new candy dish. They have maple everything and I debate sending my mom a bottle of maple syrup, but I'm worried it would break before it got to her.
"Ready for some rides?" I ask as I tuck the candy in my purse. He nods his head but he doesn't look so sure.
"Do you think that your stomach can handle it?" I ask and he side eyes me.
"I'll be fine," he promises, and I roll my eyes at his tough guy routine.
My phone dings as we get in line for the tilt-a-whirl, and I pull it out to see a text from my book club friend, Jaime.
Jaime: Are you ready for next Thursday?
Arlowe: Of course!
Jaime: Can't wait!
"Who was that?" Yates asks as we move up in line.
"My friend Jaime. We're in a book club together and she was just reminding me about our meeting this coming Thursday."
"What book are you reading? A romance one?" he asks.
"Why? You want to translate it?"
He rolls his eyes and I grin as we show the ride operator our wrist bands and climb onto the ride.
"It is a romance book, actually. The main characters have this sexy vacation fling on this island off the coast of South Carolina and they end up falling in love. It was so good," I gush and he nods as the operator closes the bar.
"Sounds cool," he says, and I grin at his bored monotone.
"It is! You should read it."
"Maybe," he hedges as the operator turns and goes back to the ride box and pushes a few levers.
"I've always wanted to have a super steamy vacation romance. Something where you can just get what you need without being worried about the rest of the relationship. Something strictly physical. It's been on my bucket list for ages," I say with a dreamy sigh.
"Are you coming onto me?" he asks and I blink at him, my head whipping to the side as I gape at him.
And then I burst out laughing.
I didn't mean to be. I wasn't even thinking about it. I mean, I've been trying to hide my crush from him since I got to town and the one time I was just saying something innocently, he asks me that.
I laugh harder and that seems to surprise Yates. He wasn't expecting that reaction and he frowns at me, looking insulted, and I try to backtrack.
"I mean, you're gorgeous. I'd love to have sex with you."
I freeze.
I can't believe I just said that.
I can see a few people giving us weird looks but I ignore them. All of my attention is locked on Yates.
We both just stare at each other, neither one of us knowing what to do. The ride starts and we both look away from each other and grab hold of the bar as the ride starts to spin.
Rebecca Wilder. The Mix Up (Kindle Locations 862-895).
These two have so much chemistry it pretty much sizzles off the pages. Yates spends so much time alone working at home on translating books that Arlowe's influence has him getting out and actually enjoying himself and her company.
Lots of fun, laughter, romance and sizzle with a twist I didn't see coming.
5 Contented Purrs for Rebecca!
Click the Cover for Buy Links and More!
Coming Soon!
USA Today Bestselling Author Rebecca Wilder writes contemporary and new adult romance. She loves writing about opposites attracting and finding their happily ever afters.
When she's not spending time with her family or friends, she's reading romance books, watching stand up comedies or crime TV shows. She's also a total Pinterest addict, dog lover, tea snob, and a wannabe yogi.
Website | Twitter | Facebook | Goodreads
Amazon Author Page
About The Meet Cute Book Club Series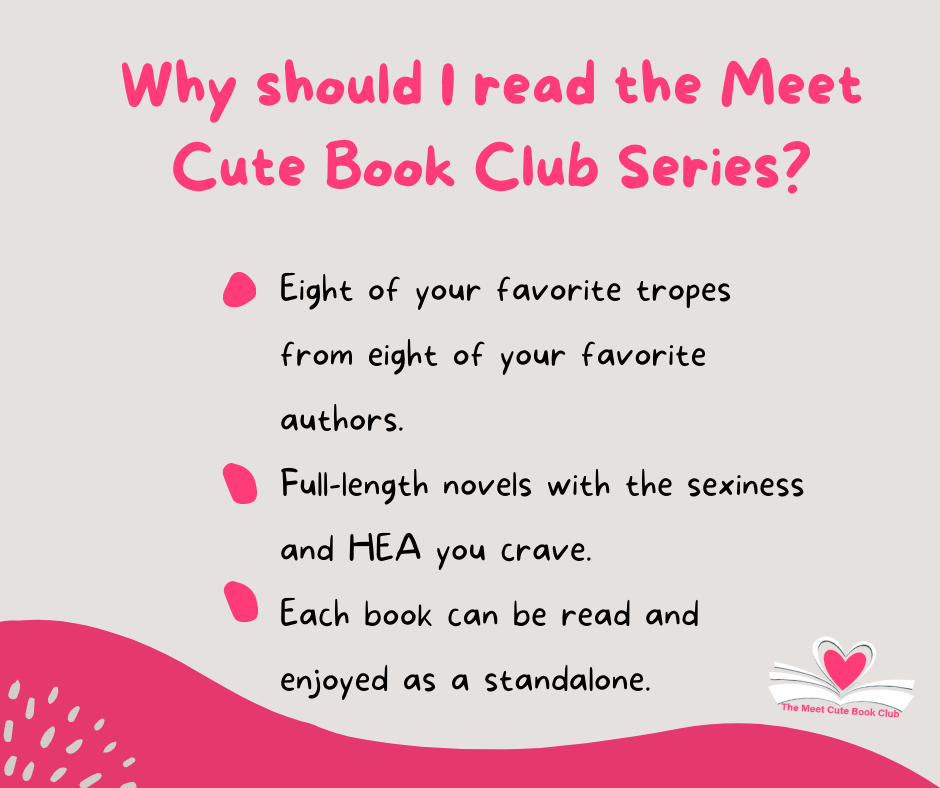 Escape with the Meet Cute Book Club where meet-cutes don't only happen between the pages of romance novels and members find their own happily ever afters.
Eight single women bound by their love of books take a monthly break from real life to lose themselves in the chapters of romantic fiction. From friends to lovers to fake relationships and more, each story features a brand new couple and their journey to find love from an amazing lineup of authors including Louise Lennox, Tracy Broemmer, A.M. Williams, Mel Walker, RJ Gray, Rebecca Wilder, Julie Archer, and Kate Stacy.
These eight standalone romances are packed with meet-cutes, heat, and of course a happily ever after!
This promotional event is brought to you by The Indie Pen PR